Photonic Professional GT2
High resolution 3D printer designed for ultra-precise and rapid scientific microfabrication
Contact us for more info
Most mature

scientific microfabrication
based on Two-Photon Polymerization (2PP)
Benefit from thousands of innovation successes. Connect with the largest user community in the field
More substrates. More materials. More options for your unique 3D Microfabrication ideas
Galvo-based system for high-speed microfabrication with submicron precision
Rely on this highly successful

scientific microfabrication tool
Nanoscribe's Photonic Professional GT2 uses Two-Photon Polymerization (2PP) to produce filigree structures of nearly any 3D shape by high-precision 3D printing: crystal lattices, porous scaffolds, naturally inspired patterns, smooth contours, sharp edges, undercuts and bridges are all manufacturable with high resolution. More than a thousand successful research projects by Nanoscribe customers and system users are evidence of the power of two-photon lithography.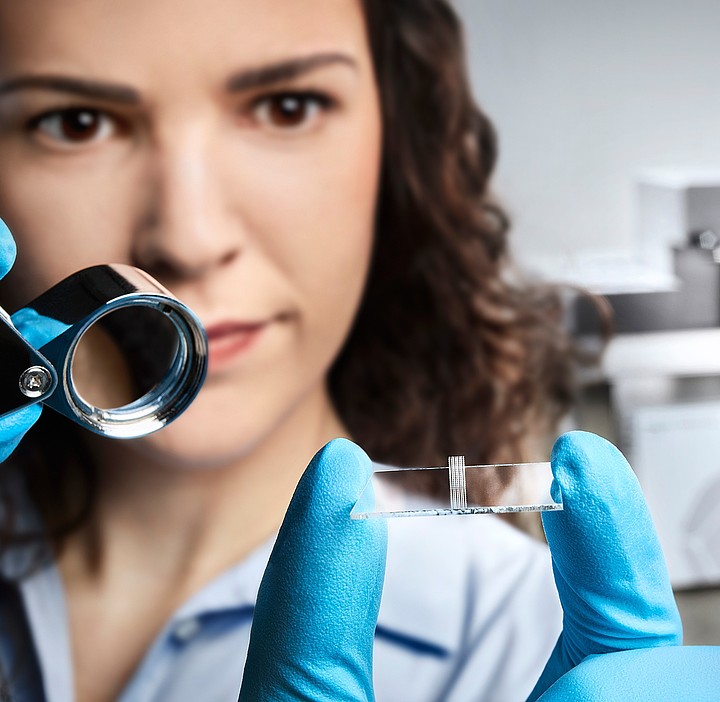 Scientific performance.
Photonic Professional GT2 combines flexibility based on versatility of use and design freedom with straightforward operation and a wide range of materials and substrates. Therefore, it is an ideal two-photon lithography instrument for science and rapid prototyping in multi-user facilities and research laboratories.
Scientific solutions.
For our Photonic Professional GT2 we have developed specific, process-centered solutions. This enhances the printing performance of the world's highest resolution 3D printer for the rapid fabrication of almost any shape on the nano-, micro- and mesoscale.
Scientific community.
Nanoscribe's 3D printers support cutting-edge research in over 30 countries. More than 1,400 pioneering research projects prove the powerful design and nanofabrication manufacturing capabilities of this versatile two-photon lithography system.
Technical features in brief
High-speed 3D Microfabrication with high precision and true design freedom
Straightforward workflow with open software architecture
Broad range of application-specific and universal printing materials
Open system for custom-made and third-party materials
Printing processes and range of scales
Two-Photon Polymerization (2PP)-based high-resolution 3D printing
Nanoscale printing – submicron feature size control in all spatial directions
Microscale printing – with typical dimensions from 50 to 700 micrometers
Mesoscale printing – for millimeter-sized print objects
Get inspired by the versatility of


Photonic Professional GT2
Additive manufacturing redefines how physical objects are manufactured. In the micrometer scale, Two-Photon Polymerization enables extremely precise 3D Microfabrication to realize almost any 3D shape. Simple, complex and even organic shapes and structures materialize with 2PP-based, automated 3D printing processes.
The video features a series of 3D printed microscopic objects. The sequence of scanning electron microscope (SEM) images show the smallest details from different angles. The broad range of structures illustrates the capabilities of Photonic Professional systems. The possibilities of additive manufacturing on a micrometer scale are demonstrated by a variety of fundamental shapes.
Do you want to check

the feasibility of your design with us?
Facts and figures on




Photonic Professional GT2
High-speed 3D Microfabrication using galvo technology
3D design freedom with sub-micrometer feature sizes
Straightforward 3D printing workflow from CAD model import to printed product
3D Microfabrication Solutions Sets tailored to a variety of scales and applications
Broad range of print materials and substrates
Designed for cutting-edge research and rapid prototyping in
Microfluidics
Micromechanics
Biomedical engineering
Micro-electro-mechanical systems
Mechanical metamaterials
Photonic metamaterials and plasmonics
Microoptics
Nanostructures
| | |
| --- | --- |
| Printing technology | Layer-by-layer Two-Photon Polymerization |
| Minimum XY feature size | 160 nm typical; 200 nm specified* |
| Finest XY resolution | 400 nm typical; 500 nm specified* |
| Finest vertical resolution | 1,000 nm typical; 1,500 nm specified* |
| Layer distance | variable, 0.1 – 5.0 µm* |
| Maximum object height | 8 mm* |
| Build volume | 100 × 100 × 8 mm³ * |
| Minimum surface roughness Ra | ≤ 20 nm* |
| Max. scan speed | from 100 to 625 mm/s* |
* Values may vary depending on the Solution Set, objective or photoresin in use
Dynamic Precision Printing

modes
Optimized balance between precision and speed
With our Dynamic Precision Printing modes (DPP ®), it's your decision. For speed and precision. All DPP modes are finely tuned starting points for quickly achieving excellent print results. With DeScribe, our print job preparation software, you can customize each mode to fit your design and specific requirements.
The five DPP ® modes in brief:
Solid mode as the starting point for Dynamic Precision Printing stands for high precision, contour quality and shape accuracy.
Shell/scaffold mode bypasses full-volume printing with inner support structures to increase print speed by a factor of 5 while maintaining the same high contour quality and shape accuracy.
Pure shell is based on the shell/scaffold mode that stands for clean contours and thus increases printing speed by a factor of 7.
Swift mode is the sprinter among the DPP modes and prints about 10 times faster, in a quality that is impressive and is functionally adequate for many purposes.
Balanced swift mode enables 6 times the speed with significantly improved precision and high-resolution.
Dr. Jiangdong Deng, Harvard University
Nanoscribe's 3D printer has really opened doors to new research areas. You can build unique 3D devices with submicron resolution very easily, that's the biggest advantage of this tool.
DeScribe

Software for straightforward printing
Prepare and optimize your print job in just a few steps
Our wizard-based software tools simplify the complete 3D printing workflow with Photonic Professional systems. Go straight through from CAD model import to the final micropart in just a few steps. With printing modes, our tailor-made software parameter presets, you get guidance on preparing your print jobs in just a few minutes. However, if needed, you can also take advantage of some really powerful expert features.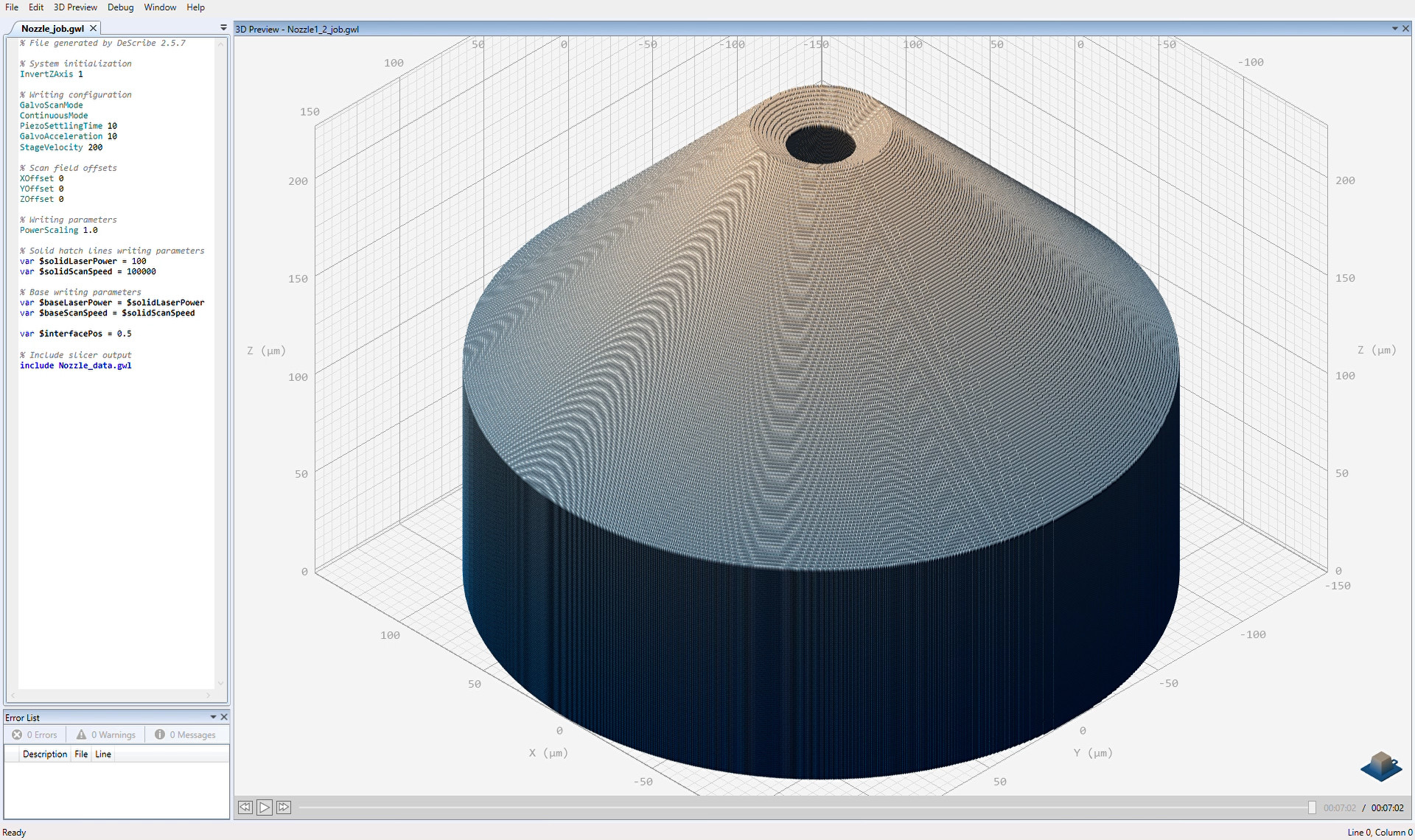 DeScribe is a print job development software for Nanoscribe Photonics Professional systems. The integrated import wizard can load 3D STL files as a widely used 3D CAD format. DeScribe automatically fixes the STL mesh if necessary, and generates print jobs for the Nanoscribe 3D printer.
| | |
| --- | --- |
| Key feature | Benefits |
| 3D CAD model import wizard | Intuitive workflow generates suitable print job files from standard STL files |
| Printing modes with field-proven print parameter presets | Ready-to-use preset parameters to achieve optimal printing results right out of the box |
| Dynamic Precision Printing modes | Find optimized balance between precision and speed |
| Adaptive slicing | For improving shape accuracy |
| Parameter sweep | Find perfectly matching print parameter for new materials and applications easily |
| Integrated Development Environment (IDE) | Experts can generate and modify print files (GWL) for customized and really advanced print tasks |
| 3D preview and printing simulation | What you see is what you print! DeScribe displays parameters such as print time, scan speed or laser power and simulates the whole printing process in detail |
NanoWrite is the graphical user interface for Nanoscribe's Photonics Professional systems. NanoWrite starts the print job in a few steps and provides access for experts to all relevant parameters of the 3D printer hardware, such as the position of the stages, galvo scanning speed or laser power.
| | |
| --- | --- |
| Key feature | Benefits |
| Fully automated execution of print jobs | Plug-and-play: The intuitive GUI guides you in a few steps to the printed object |
| Automatic interface finder with submicrometer precision | Time saving feature to ensure reliably positioned prints on almost any surface |
| Live camera view of the printing process | Visual control of your printing progress |
| Marker alignment with submicrometer precision | New structures can be aligned with micrometer precision towards existing features |
| One-click generation of printer reports | Valuable information for maintenance and service |
Photonic Professional GT2

Make small things matter.
Success with maturity.

We would be pleased to prepare a customized offer for you.
For this, please clarify the details with our sales experts.