Customer support and services
Our worldwide customer support team, with more than 15 years of experience in 3D Microfabrication, responds quickly and efficiently to your needs. If you require technical assistance or specific user information, our online knowledge base and helpdesk are always available for you.
Get professional support
NanoGuide


online knowledge base

Enjoy 24/7 online access to a wealth of information and get everything you'll need to print successfully.

As a comprehensive self-service platform, NanoGuide includes links to live training webinars, detailed material properties, standard operating procedures, maintenance steps and much more. Confirmed customers* have direct access to NanoGuide.
Helpdesk

with technical & application support

We will process your support request as efficiently as possible by understanding your problem and then developing suitable solutions. We use software tools to remotely inspect and configure your printer.

As a confirmed customer* you can open a ticket by sending an email to us. Please provide a thorough description of your issue and include supporting documents such as job files, a service report and screenshots.

* Customer confirmation
Access to NanoGuide and online support is restricted to confirmed customers. To initially register as a customer with Nanoscribe, please provide your affiliation and institutional address to us through your printer administrator.
Get to know all of our services.
Commissioning, maintenance and repair worldwide
Our service team commissions your new Nanoscribe 3D printer on your premises. We provide a pre-consultation to check that the operating infrastructure and environment are appropriate for optimal printing results. During the commissioning process, the system is thoroughly calibrated, aligned and tested to ensure all specifications are met. Additionally, theoretical and hands-on training sessions help users familiarize with the hardware, software and workflows.
We offer worldwide maintenance services for your 3D printer, ensuring consistent printing results and a long instrument lifetime. Repair solutions bring your 3D printer back into operation should an issue arise.
General and solution set specific training sessions
Our aim is to bring new users up to the level of expert Nanoscribe users within a short time. Get general training sessions on the overall operational knowledge of the 3D printer or attend advanced training sessions specifically tailored to our 3D Microfabrication Solution Sets. The advanced training prepares for either printing structures with
small features on the order of a few microns or smaller (Solution Set Small Features) or
medium-sized features on the order of 10 μm or greater (Solution Set Medium Features) or
large-sized features on the order of 20 μm or greater (Solution Set Large Features)
Next online customer training
System users in Europe
Photonic Professional GT2
system Trainings
28 November2023
4-5:30 pm (CET)
11 January 2024
9-10:30 am (CET)
06 February 2024
4-5:30 pm (CET)
Quantum X
system Trainings
30 November 2023
9-10:30 am (CET)
09 January 2024
4-5:30 pm (CET)
08 February 2024
9-10:30 am (CET)
NanoGuide - extensive online knowledge base
As a Nanoscribe user, NanoGuide is your 24/7 support portal with the latest information on 3D Microfabrication. It provides detailed information and guides on Nanoscribe hardware, software, photoresins and print processes.
If you have a question that NanoGuide cannot answer, submit a support request to our service team directly within NanoGuide or contact us via support@nanoscribe.com or +49 721 981 980 400.
Technical and application support
We will process your support request as efficiently as possible by understanding your problem and then developing suitable solutions. We use software tools to remotely inspect and configure your printer.
Our experts are ready to turn your design concepts into physical products. Application specialists assist you remotely or on-site and provide customized print recipes. Benefit from our application support and save precious time, especially when printing challenging structures.
Maintenance and guarantee contracts
Long-term maintenance contracts are a recommended addition to any crucial investment. Regular preventive maintenance ensures that your Nanoscribe 3D printer will perform optimally in the future and expedites diagnostics and service. On-site maintenance typically includes an optical alignment, hardware calibration, cleaning and software updates. Visits can be arranged on-demand or as part of long-term maintenance contracts.
Guarantee extensions cover all costs for spare parts, repair services and travel. Extended guarantees become effective after the standard guarantee of 12 months from commissioning is expired. An extended contract ensures that you are back up and running as quickly as possible. Futureproof your finances with a long-term and reliable guarantee contract and get the services that your printer needs on time.
Upgrade and relocation services
Older Photonic Professional systems can be upgraded to the latest hardware versions or expanded with a new solution set. After the installation, users will be trained to make use of the new features right away.
Our relocation services include disassembly, packing and preparation of your 3D printer for transport between laboratories, cities or even countries. A complete setup, full system check and realignment at the new location will be performed, along with optional training if required.
Service team
The Nanoscribe Service Team strives to provide the best support in the shortest time possible. As a Nanoscribe customer, you will receive the benefits of state-of-the-art hardware matched with exceptional customer service.
The team comprises members with a diverse range of skills and broad knowledge of chemistry, materials, engineering, electronics and different applications.
Our engineers have extensive experience with Nanoscribe 3D printers and are well equipped to offer specialist advice or troubleshooting tips. The working language is typically English, but we also speak German, French, Spanish, Italian, Romanian, Mandarin and Cantonese.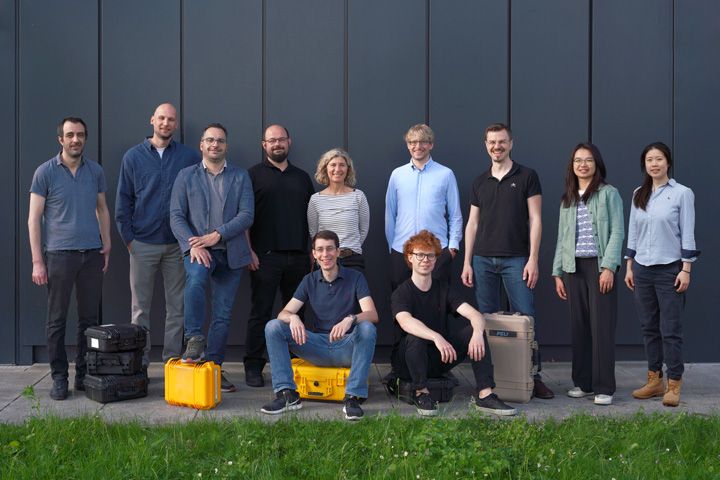 Let our customers speak
19 September | Researcher at Friedrich-Schiller-University Jena, Germany
"Alex provided outstanding support, as always. His expertise and professionalism truly stand out. Highly recommended!"
13 September | Researcher at University of Birmingham, Great Britain
"Always high quality and prompt service from Aaron! It really makes the difference for Nanoscribe."
28 August | Researcher at University of Heidelberg, Germany
"A very detailed, fast and clarifying answer"
23 August | Researcher at King Abdullah University, Saudi Arabia
"Outstanding as always. Thank you once more for the amazing customer support you provide us."
15 August | Researcher at Karlsruhe Institute of Technology, Germany
"Very supportive, kind, and fast. Thanks"
07 August | Researcher at Texas A&M University, United States of America
"It was great service from the Nanoscribe engineer!"