How to experience

3D Microfabrication
The Microfabrication Experience Center is the state-of-the-art facility at the Nanoscribe headquarters that features spacious laboratory, exhibition and conference rooms for product demonstrations, feasibility testing and trainings covering the entire spectrum of 3D Microfabrication.
Nanoscribe welcomes its customers, partners, users, experts and other stakeholders to experience all aspects and facets of 3D Microfabrication.
Find out more about the individual and tailored offerings at the Microfabrication Experience Center:
Inspiration and insights in our Showroom
Product demonstrations and feasibility demonstrations in the Demolab
Inhouse and online training courses
Expert workshops and user meetings
Showroom
Get inspired

by the Nanoscribe technology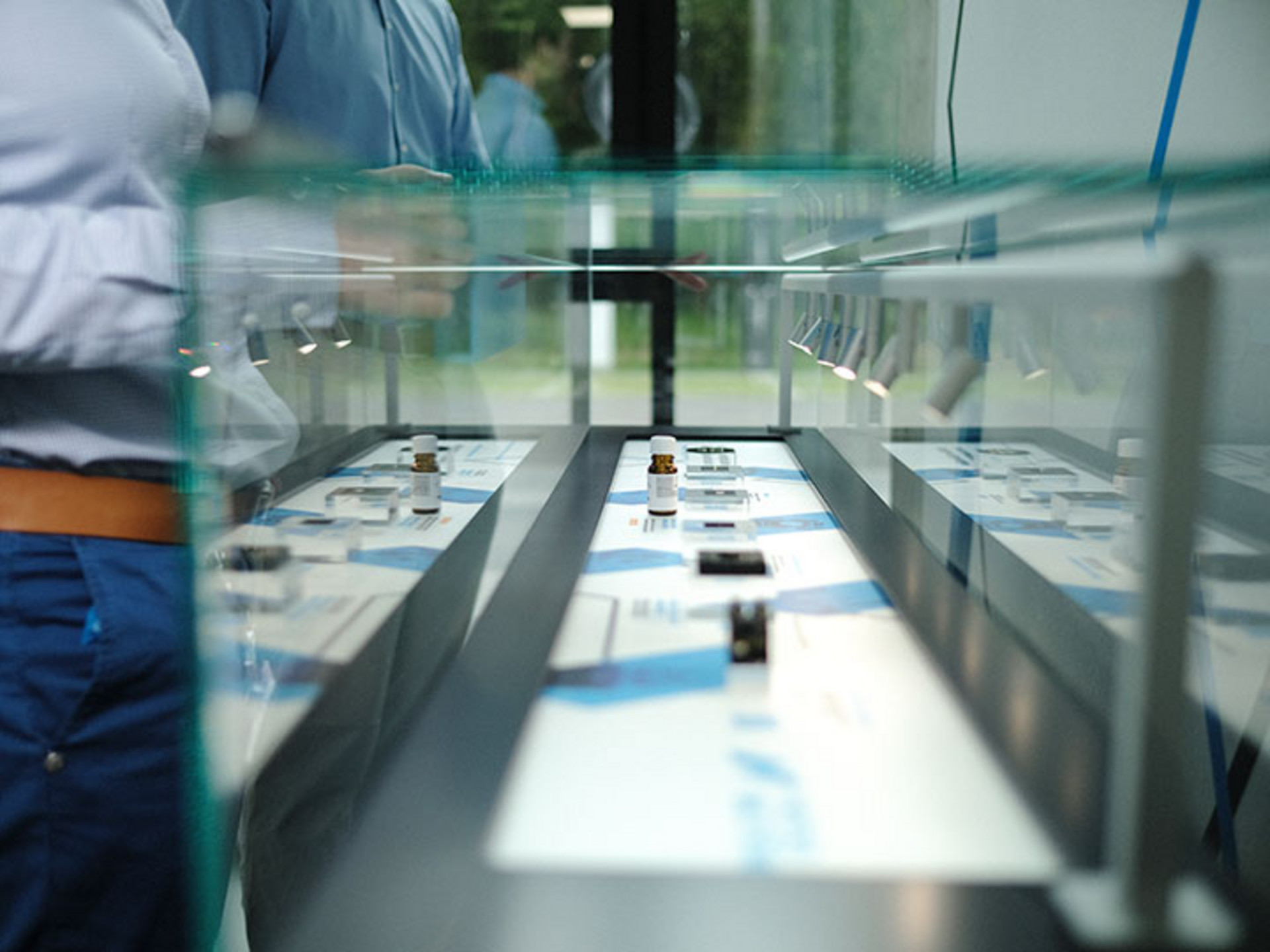 The Showroom is your place to get inspired by Nanoscribe's technology and solutions. Based on Two-Photon Polymerization (2PP) and Two-Photon Grayscale Lithography (2GL®) the 3D Microfabrication and maskless lithography technology is enabling applications in a wide range of scientific fields and industrial sectors. In the Showroom, visitors can explore truly outstanding benchmark applications that cover a wide range of innovative solutions for future-oriented markets. The instructional exhibits range from free space microoptics on laser chip, 3D compound microlenses on fiber, microfluidic elements and mechanical components to diffractive optical elements (DOE) and microoptical elements.
Martin Hermatschweiler, CEO and co-founder of Nanoscribe
In our Microfabrication Experience Center, we demonstrate the capabilities of our technologies and products, validate the suitability for customers' projects, intensify partnerships and offer training.
Product and feasibility demonstrations
Validate

our technology for your projects
The Demolab represents the heart of the Microfabrication Experience Center. In this facility, visitors can participate in product demonstrations of the 3D printer Photonic Professional GT2 and the maskless lithography system Quantum X. These sessions provide a strong first impression of what is possible with the 3D Microfabrication technology of Nanoscribe. It is a proven way to experience the impressive system performance based on hardware and software features. The Microfabrication Experience Center's service portfolio ranges from individual product demonstrations and feasibility demonstrations to training courses. Many of the events are also offered online and broadcast live to complement the face-to-face events in Karlsruhe.
Inhouse and online trainings
Practice

to improve 3D Microfabrication skills
The Microfabrication Experience Center is also the place for training sessions where new and experienced users practice working with the Nanoscribe 3D printers. Nanoscribe offers inhouse training sessions in the Demolab. Especially in today's world, digital events and services are an important extension to acquire practical experience. On-site and online trainings provide a comprehensive preparation for working with the hardware, software, and workflows of the Nanoscribe 3D printers.
Workshops and user meetings
Exchange

of ideas in 3D Microfabrication
Nanoscribe connects its customers, partners and interested parties with Nanoscribe experts to exchange knowledge and develop yet undiscovered innovative potentials in in 3D Microfabrication. Thus, in expert workshops and user meetings current challenges, developments, and emerging trends in high-precision 3D printing are discussed. Topics of interest include 3D printing, prototyping, mastering and replication as well as many more aspects of high-precision additive manufacturing. In this way, the Microfabrication Experience Center also serves as a catalyst for ideas with the aim of inventing smart solutions in 3D Microfabrication. Subscribe to our bimonthly newsletter for regular updates on our upcoming user meetings, workshops and many other events.
Well, how about a visit to the
Microfabrication Experience Center
We would like to welcome you to our Microfabrication Experience Center. For this, contact us to clarify the details regarding your specific interests.
Be our next visitor!